Wipes – Wipes Clog Pipes!
The Toilet Is Not A Trash can
If you are using any type of wipe (whether or not is says "flushable"), please do not flush them down the toilet; please dispose of them in your trash can.
These items can clog you household plumbing, the pipes in the street and the critical equipment at the treatment plant. Products that might seem safe to flush down the toilet, such as: personal care wipes, other personal care products, gloves, dental floss, paper towels, and grease, don't dissolve quickly – or at all – in water. Remember that wipes clog pipes!
In the meantime, please make sure to dispose of personal care products, cleaning supplies, grease and other household waste properly. For waste disposal options please visit: https://www.townofwestspringfield.org/government/departments/public-works/recycling-and-waste-disposal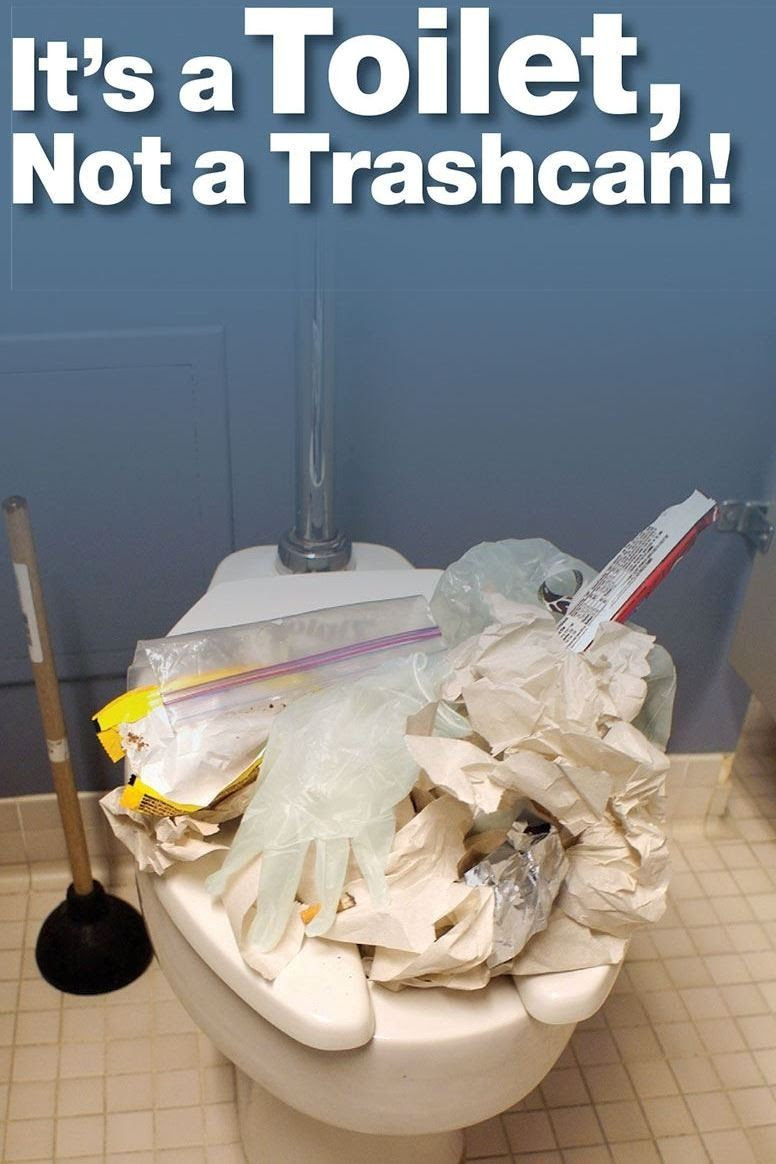 The West Springfield Department of Public Works works every day at a diverse number of tasks that effect almost every aspect of life for those living, visiting and/or working within the boundaries of the Town of West Springfield. Safety is our number one priority each day.
Other major Public Works responsibilities include maintenance of streets and sidewalks, installation and repair of street signs, water treatment and distribution, snow removal and sanding, collection and pumping of sanitary sewer effluent, flood protection, collection of recyclables, solid waste, yard waste and large bulk items.
We acknowledge that the safety and comfort of the citizens of West Springfield is the prime purpose of our mission and to them we commit our efforts to attain each goal with environmental sensitivity and fiscal constraint.
---
Mission Statement -
The West Springfield Department of Public Works strives to provide the highest quality of services to the public and other City departments balanced through efforts to maintain a cost effective operation while providing these services in a responsible and efficient manner.
Vision Statement -
The West Springfield Department of Public Works vision is to be a well-respected organization that can be relied upon to handle all of our City's daily and long term needs while always staying connected with all other Towns through MassDOT affiliations and programs.
---
Table of Organization
Administration and Finance
Operations – which includes street and sidewalk maintenance, storm and sanitary sewer operation including flood control, snow and ice removal operations as well as solid waste management and collection.
Water Treatment and Distribution
Engineering and Design – which is responsible for all contract work, inspections, and related documents. Interacts with other Departments for the providing technical assistance and relative information.
Do you have some SNOW AND ICE control advice? Please email us at snow@townofwestspringfield.org. Be sure to include the location address and the concerns you are having. This is the best way to communicate your snow related issues to us - we look forward to hearing from you.
---
Real Estate Closing
If you are closing on a house, please fill out and send in the form below at least 5 days prior to the closing.
---
DPW Work Zone News
Water Main Installation on Morgan Road between Piper Road and Piper Cross starts from 4/6/2020 to 4/10/2020 - that section of Morgan Road will be closed - use Piper Cross as detour
To find out where Columbia Gas is working this year please visit their website.
February 2020
We have a new sewer expansion project called Birnie Ave Piper Road Area Sewer Expansion Project that is out to bid - so far bids are due on 3/10/20 at 2pm. Plans can be found at https://www.townofwestspringfield.org/government/departments/finance/procurement-bids/bids/-fsiteid-1
February 2020
The following State Revolving Fund (SRF) loan funded Water and Sewer project contracts stats are as follows:
Clean Water Project - Inflow & Infiltration Reduction Improvements work @ $1,115,360.00 with Caracas Construction Corporation - COMPLETED
Clean Water Project - Flood Control Pumping Stations Improvements @ $2,543,600.00 with Bay State Regional Contractors - NEARING COMPLETION
Drinking Water Project - Water Pressure (low) Zone Modifications @ $4,092,073.00 with Ludlow Construction Company-COMPLETION BY 11/30/2020
Drinking Water Project - Water Meter Replacement @ $1,698,806.00 with East National Water LLC - COMPLETION EXPECTED APRIL OF 2020
February 2020 - sewer rate usage rate was voted by Town Council to remain at $5.65/100 cubic feet
Sewer Rates were set to fund infrastructure repairs and operational cost increases as follows:
Effective January 1, 2018 (and Fiscal Years 2019, 2020, 2021)
Ordered: That the Town Council establishes new sewer use fees, pursuant to Massachusetts General Laws Chapter 83 for residential and commercial users, effective on and after January 1, 2018, which shall be: $3.35 per 100 cubic feet
And that effective on and after July 1, 2018, the sewer use fees shall be:
$4.35 per 100 cubic feet (30% increase)
And that effective on and after July 1, 2019, the sewer use fees shall be:
$5.65 per 100 cubic feet (30% increase)
And that effective on and after July 1, 2020, the sewer use fees shall be:
$7.35 per 100 cubic feet (30% increase)
Provided however, that the sewer use fees of Town residents granted exemptions from real estate tax in any tax year by the Board of Assessors under General Laws Chapter 59, Section 5, Clauses 17E, 18, 41C and 41D shall, for said tax year, be 90% of the sewer use fees established herein and as amended from time to time.
And that the industrial sewer use charges shall be adjusted on January 1, 2018, July 1, 2018, July 1, 2019 and July 1, 2020, by the same incremental percentage as the adjustments to the residential and commercial users.
February 7, 2018
Sanitary Sewer System Infrastructure Investment Update - Pump Stations: Installation of permanent by-pass pumping & Programmable Logic Controllers at our Bridge Street, Agawam Avenue and Riverdale Street sanitary sewer pump stations is now substantially complete. The project contract price is $612,762.00 and will enable us to bypass these stations with temporary pumps while these stations receive the next $5.8 million dollars worth of work to be done over the next year. The work includes replacement of concrete, pumps, piping and electrical systems.
November 2, 2017
OSHA Standards Legislation: The House of Representatives have passed a bill last week that would apply the OSHA safety standards to public workers. The Senate passed their own version (known as bill "S.2167") of the bill weeks ago. The two versions will now need to be reconciled before the bill will move to the Governor for his signature. The legislation also creates an occupational health and safety hazard advisory board and MWWA would have a seat on this board.